Podcast: Play in new window
Subscribe: Apple Podcasts | Google Podcasts | Spotify | Stitcher | TuneIn | RSS
Have you ever wondered what it would be like if all your customers loved the way you serve them and constantly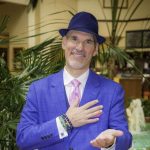 raved about you to others?
This week's guest, Christoff Weihman, believes that every customer that comes into your place of business deserves to receive 5 Star Service. Every customer should be greeted and treated as if they are a VIP…because they are.
Every customer service professional, if they have the right internal components, and are provided with the proper tools and training, can be equipped to consistently deliver WOW! Service.
Christoff joins Adam this week to teach us how to elevate the customer experience.
You will discover:
What determines the level or quality of Customer Service that a company delivers to their clientele;
How touchpoints affect the customer journey;
If it's really possible to train/teach Customer Service Excellence and why it doesn't necessarily come naturally if someone is doing their job properly and well;
And much more!
Ready to uplevel your customer service and bring your customers that 5 Star Service? Tune in!