Podcast: Play in new window
Subscribe: Apple Podcasts | Google Podcasts | Spotify | Stitcher | TuneIn | RSS
Best selling author, conscious entrepreneur, and influencer Rich Perry has a personal motto: Lead By Example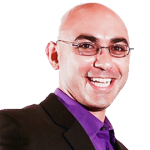 Through Excellence. While it sounds simple, this motto has set him up for success as he works with business leaders who want to make a difference in the world. Rich is the co-author of International #1 Best Selling book Bankroll Your Mind where he discusses how to achieve laser focus, operate with total integrity, and bring your best self in whatever you do in.
Rich was invited by Jim Britt and Jim Lutes to be a co-author in The Change, the fastest growing personal development book series in the world. Both through his books and coaching, Rich prides his ability to take each person on a hero's journey by integrating conscious and unconscious performance to create a lasting and powerful change.
Join us as we discuss:
– Rich's recent move to Texas from Pennsylvania.
– The support he received when starting The Path of Me.
– Overcoming struggles.
– The practice he calls, "Transforming Pebbles Into Mountains".
– A specific process you (the listener) can utilize in you daily life!
– His new book, "Bankroll Your Mind".