Podcast: Play in new window
Subscribe: Apple Podcasts | Google Podcasts | Spotify | Stitcher | TuneIn | RSS
It's a moment most business owners dream about — but what is it actually like to generate your first million dollars?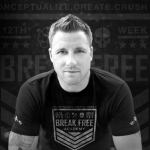 CEO and Founder of Hardcore Closer and Break Free Academy Ryan Stewman is here to talk about all things sales. His sales mastery can help generate higher quality leads, increase closing ratios, and show you how to charge premium fees for the items you sell — no matter what it is (cars, homes, financial services or consulting). With his no BS, 'take action' approach, Ryan has been able to help high income and high net worth performers make adjustments in their businesses that unleash windfall profits.
Ryan is a 5x best-selling Author, Motivational Speaker, Sales Coach, Podcast Host, Blogger and all around Entrepreneur. He's also regularly contributes to Forbes, Entrepreneur, Addicted2Success, Good Men Project, Lighter Side of Real Estate, Huffington Post, and more. While some sales trainers advertise their success by bragging about private jets and expensive cars, Ryan prefers to brag about the mansions and exotic cars his clients have been able to purchase through the utilization of his teachings. His programs have propelled numerous clients from 5 and 6 figure incomes to 7 figure a year earners, and he has a new group he's working on each year in his top tier program "The Tribe". Join us as we talk about how he got started, what made him keep going when life knocked him down, and what it took to get where he is today. Plus, hear his best advice for someone just starting out.