Podcast: Play in new window
Subscribe: Apple Podcasts | Google Podcasts | Spotify | Stitcher | TuneIn | RSS
Putting your website together is a huge task! You have to focus on the design, the navigational flow, the copy, the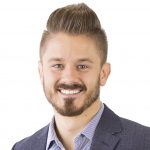 stock photos, and so much more.
The internet is a beautiful thing for consumers, giving them a seemingly endless number of choices for whatever they need, almost regardless of location and industry. However, while this is good for consumers, it can make things difficult for businesses, who now have more competition than ever before.
In order to stand out from that competition, your site needs to immediately answer the question "why us?" You want to let them know why they want to hire you or purchase from you immediately.
Chris Dayley, VP of Testing and Site Optimization with Disruptive Advertising, joins Adam to reveal the psychology behind websites and how to build them to convert.