Podcast: Play in new window
Subscribe: Apple Podcasts | Google Podcasts | Spotify | Stitcher | TuneIn | RSS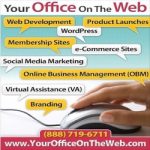 Every business experiences growing pains. As entrepreneurs, we are no different. Most often we start out alone, doing everything ourselves. It's not uncommon to find entrepreneurs working VERY long hours, struggling to get all the pieces and parts done in their business. We see them struggle to learn things they need to get done, but really have no business doing themselves…putting together newsletters, setting up websites, creating sales funnels, and so on.
There comes a point for every entrepreneur…every business really…where enough is enough. It's either expand, or close shop. Working with a virtual assistant has become a well-known, yet still misunderstood concept. How can you really work with someone who's not in your office? How do you know what they are doing? What if they are working on someone else's stuff and charging you for it?
Working with a virtual assistant, or VA, for the first time is scary and exciting. The thought of growing, having a team, getting some time back is enticing. But there are fears and questions. Denise Griffitts is a seasoned virtual assistant who is here to answer your questions, quell your fears and help you take that leap to expansion.
Join us for Part II on September 30.