Podcast: Play in new window
Subscribe: Apple Podcasts | Google Podcasts | Spotify | Stitcher | TuneIn | RSS
What's the difference between the confident business owner who leads the growth of their business vs those who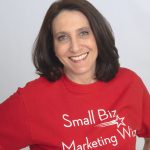 can't get out of survival mode? It all comes down to this: All successful businesses have a clear marketing strategy that makes everything they do more effective.
Unfortunately, many busy small business owners get so caught up in tactical daily marketing execution like building a website, sending email, tweeting, advertising, optimizing a landing page, blogging and so on, that they are not taking the time to work on the decisions that'll improve the performance of their tactics.
Small Business Stacey to the rescue! Stacey Riska joins Adam this week to talk about marketing, and why yours could be failing.
Discover:
How to get your marketing into A.C.T.I.O.N.;
The number one reason so many small businesses are struggling;
How to put a marketing campaign on autopilot;
Is marketing really as EZ as Stacey says;
And so much more!
If you're ready to enhance your marketing skills and watch your bottom line soar, don't miss this episode!