Podcast: Play in new window
Subscribe: Apple Podcasts | Google Podcasts | Spotify | Stitcher | TuneIn | RSS
Running a large organization is like being the director, performer, and the audience – all at the same time. There are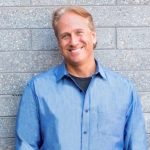 just so many moving parts. You must be ready for a far-reaching array of responsibilities AND give careful consideration to a never-ending laundry list of concerns. To effectively lead and grow a company you need a never-ending supply of confidence and momentum. You need to be able to trust your gut.
The formula is simple: When leaders have confidence in themselves, they make great decisions. When employees see that people, revenue, strategy, and execution are being expertly managed, it builds a level of trust that extends way beyond your bottom line. It inspires brand loyalty from your clients and partners.
Master the technique of bringing this all together and watch your company gain great growth.
Collaborative Business Advisor, Todd Palmer, knows how to get stuff done.
He joins Adam in this information packed episode to explore:
How you can grow a business but not go out of business;
How to discover the purpose & passion of the business;
How to break past bottlenecks around growth and reach new levels of success;
How to know if you should 'hire for DNA, Not Resume';
The best ways to turn around a struggling organization;
And so much more!
If you're facing imposter syndrome or unmet expectations — don't miss this episode.