Podcast: Play in new window
Subscribe: Apple Podcasts | Google Podcasts | Spotify | Stitcher | TuneIn | RSS
As a business owner, you need to be able to communicate your offer's value effectively to others: your colleagues,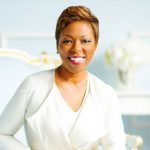 your employees, your customers, even the members of your family. That's where Stephanie Chung comes in. Stephanie offer sales training, executive coaching, and small business mentorship services nationwide. Among her products is the "High Ticket Selling Made Simple" course, designed to help small business owners sell more and make more. As a former sales executive in the aviation and private jet industry, Stephanie has mastered the art of high ticket selling and has mentored, coached and developed some of the highest paid, most elite, sales professionals in the country.
Stephanie is an executive coach, trainer and advisor backed with more than 25 years of team management, business development, and sales leadership experience! It's safe to say, we can all benefit from the what Stephanie has learned through her impressive professional career. Join us as we discover what high-ticket selling means to her, some of the challenges people face when selling high-ticket items, and what obstacles entrepreneurs face when it comes to sales.