Podcast: Play in new window
Subscribe: Apple Podcasts | Google Podcasts | Spotify | Stitcher | TuneIn | RSS
Facebook Advertising is a like a complex machine with a lot of cogs and wheels you can position in different ways.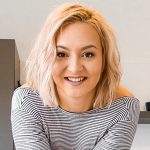 If you position them correctly, your business will flourish with the help of effective and profitable Facebook Advertising.
If you position them in a slightly different way, you risk losing your money and — frankly — patience to ever do it again.
Unfortunately, the latter scenario is a lot more common than the former.
In this episode, Adam teams up with social media and Facebook expert, Mojca Zove.
Discover…
Why Facebook ads are important for business owners;
How to get started using Facebook ads;
How to find your target audience;
The biggest mistakes people make using Facebook ads;
And much more!
If you are ready to uncover the science behind using Facebook to drive more leads to your website, tune in!