Podcast: Play in new window
Subscribe: Apple Podcasts | Google Podcasts | Spotify | Stitcher | TuneIn | RSS
What do fashion, business and abused dogs have in common? Steven Riznyk.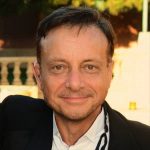 There are thousands of homeless and abused animals roaming around our country. And it's people like Steven who do their part to help.
In a unique twist on Business Creators' Radio, Adam and Steven join together to discuss how and why Steven has created two separate companies both geared toward raising funds to care for abused animals.